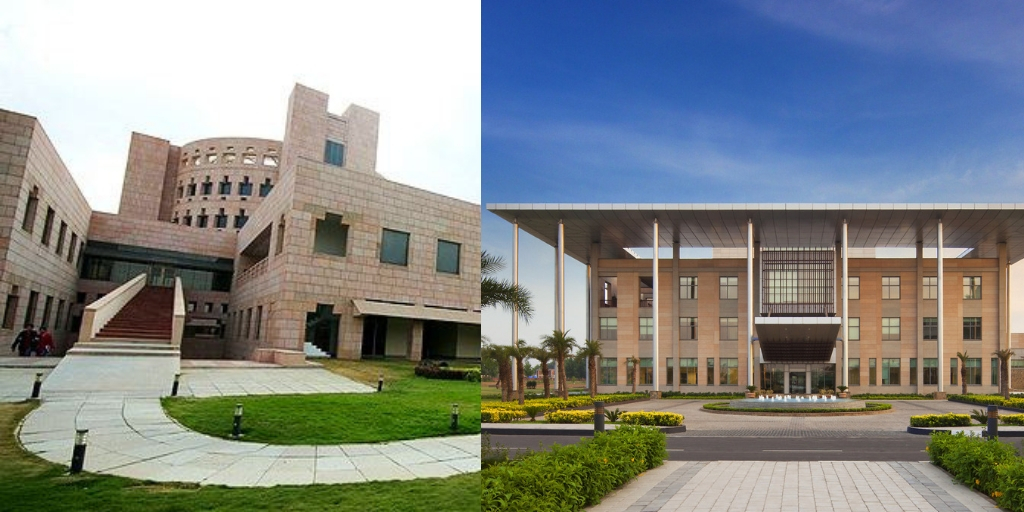 Reading Time:
6
minutes
Let us take a guess:
You're considering going in for an MBA and ISB is one of your top 5 dream B-Schools. The only thing is that you cannot quite figure out which ISB campus will be the best for you.
Wherever you go, you're seeing "One School, Two Campuses" and that is not helping because – come on, there have got to be some differences, right?!
Well, here's some good news:
You're not wrong!
The management of the Indian School of Business has gone to exceptional lengths to maintain equal standards at both campuses. In all honesty, it is working very well. However, there continue to be some subtle differences between the two campuses.
Given that half the country falls between these two campuses, there are bound to be some differences between ISB Hyderabad and Mohali.
We spoke to ISB alumni from Hyderabad as well as Mohali to find out exactly how the two campuses of ISB differ.
Here's what they had to say.
How would students of one campus know what the other is like?
It's a fair question – if you study at ISB Hyderabad, how would you know what the Mohali campus was like, and vice-versa?
The answer is simple. At ISB, students don't just stay at the same campus throughout.
"There are a bunch of cultural activities that we organize while studying at ISB. Typically, the event management teams have members from both campuses, so we inevitably end up flying to the other campus from time to time," says Aishwarya Tipnis, who graduated from ISB Hyderabad in 2016.
Anand Dubey from the 2018 batch at ISB Mohali agrees with Tipnis. "I've lost count of the number of times some of us went over to stay at the other campus for a while," he says. "There were so many reasons to do that – case competitions, courses, summits, term exchanges…"
The key takeaway from this is that ISB students spend considerable amounts of time on both campuses, putting them in an ideal place to tell us about the differences between ISB Hyderabad and Mohali.


Campus Amenities: ISB Hyderabad vs. ISB Mohali
The first thing we noticed when we looked to compare the two ISB campuses was that the Hyderabad campus was WAY larger than the Mohali one. So we asked the alums if that made a difference to the infrastructure and amenities available.
"Mohali being a newer campus had excellent maintenance. Sure, it is smaller, but it makes up for that by providing absolute state-of-the-art infrastructure. In the end, its size doesn't matter," Dubey says.
Tipnis is full of praise for the campus facilities ISB provides. "Mohali is a newer campus so the amenities are obviously newer, too. But the core support systems at both campuses were seamless. There's free housekeeping at both campuses, which is a HUGE plus point. You wouldn't believe how much time gets saved when you don't have to bother about the upkeep of your room!"
The school appreciates the time and money its students have invested in getting their MBAs. It does what it can to ensure the most efficient use of that time.
ISB Hyderabad and Mohali both have 24-hr cafes, convenience stores, medical and emergency support, banking, postal, IT, printing and a plethora of other services constantly available on campus.
The idea is that students shouldn't have to waste time traveling out of the campus for minor needs.
The amenities to ensure this are made available on both campuses.
Dubey points out, however, "Sure, we had the same stuff at our disposal on both the campuses but the staff and quality of service was better in Mohali."


Which Campus Has Better Professors?
Apparently, when ISB employs professors, they're not employed at any particular campus.
The reason being that every professor who teaches at ISB is expected to deliver lectures and oversee activities on both campuses equally.
This way, every course that is available at ISB Hyderabad is also available in Mohali. What's more, the same professors teach these courses at both campuses, too!
"ISB takes the whole 'One School, Two Campuses' thing very seriously. There's literally no point trying to look for academic differences between the campuses. They've taken every possible step to ensure there are none," says Dubey.
And sure enough, we dig around only to find that he's quite right.


So, we move on to explore other things.
What is the Campus Culture Like?
"There are tons of on-campus and off-campus activities at ISB. Most of them are organized by the student-run clubs, so it's up to us whether we keep up the uniformity between campuses," Dubey believes.
This is the first avenue for an actual distinction between the campuses that we've come across. It's possible that one campus may have more enthusiastic students while the other may have more studious ones. That could affect the activities conducted at each campus.
"It's possible but that hasn't been my experience. As an institution, ISB actually encourages all-round development. For example, I got to perform at the Hard Rock Cafe during my time at ISB. On my own, I'd have to compromise on my career to get such an opportunity," says Tipnis.
Even on a socio-cultural front, there appears to be no difference between ISB Hyderabad and Mohali.
Both campuses take steps to foster inclusivity, with Pride Marches and panel discussions about topics affecting the LGBTIQ community. Adopting no social or political stances of its own, ISB promotes open dialogue on all issues from all walks of life.
All in all, the environment on both campuses is unbiased and open to all.
"If you're REALLY looking for differences, though, here's one – there are more weekend getaways close to Mohali than there are to Hyderabad," Tipnis observes. "Not that it makes much of a difference, honestly, because you don't usually get a lot of time to yourself at ISB. The learning curve is quite steep!"
What that means for you is this:
Even though ISB Mohali affords you access to more getaways than ISB Hyderabad, you aren't going to end up visiting many. Sorry!


This brings us to the next question.

Which Campus is More Expensive to Live On?
It's but obvious that the tuition fees across campuses will remain constant.
But given the differences in the politico-economic conditions of the respective cities, we expect there to be some variations in costs of living.
"Basically, ISB is like a self-contained township. And that goes for both campuses. Whether you study at ISB Hyderabad or ISB Mohali, your living arrangements are on campus. Everything else you need is on campus, too," says Dubey.
The only way costs of living in either city will affect you is if you don't live on campus.
"It's just so convenient to live on campus that almost nobody, including local students, would choose to live outside. Getting an MBA from ISB is a package deal – you'll make the best of it only if you partake in everything that comes with being an ISB student," Tipnis says.
And as long as you're on campus, prices remain uniform. However, there is a difference in some of the finer aspects of things.
For example, ISB cannot yet control the climate. So, the obvious difference, then, is that winters in Mohali will be considerably colder and dryer than winters in Hyderabad.
This means you'll need to prepare accordingly, which may mean more expenses for some.
On the contrary, Hyderabad is more humid and warm. Depending on the weather in which you've grown up, you may have some trouble adjusting to this.
Further, the food available at Hyderabad and Mohali respectively is also different.
"You won't get Paradise Biryani in Mohali," laughs Tipnis. "But you can go get some while you're visiting!"
On a (slightly) more serious note, South Indian cuisine is very different from North Indian cuisine and some people may have serious issues adjusting to something they're not used to eating. This may not be a big issue, but it might be worth considering for some people!
"If you're talking about career opportunities, well, placements take place on the same campus for us all. So, that doesn't matter," Dubey says. "I guess the only time your campus location matters is when you're looking for internships. But you can always opt for an exchange semester and do your internship from the other campus if you land an opportunity at some company there."
This goes on to say that you have equal access to every internship opportunity that's available to ISB students, irrespective of your campus location.


So… What's the Verdict?
We've read many resources and interacted with a whole lot of people in addition to Aishwarya Tipnis and Anand Dubey. The sole purpose was to see if we could crack open ISB's "One School, Two Campuses" claim.
During the course of writing this article, we came across some claims that ISB Mohali saw more guest lecturers than ISB Hyderabad. However, we've found no evidence to back this or other similar claims.
The differences between ISB Hyderabad and Mohali are minor, subtle and entirely non-academic in nature. How deeply they impact your ISB experience depends entirely on your ability to adjust.
On the whole, ISB truly is one school with two campuses, with everything that's humanly possible being maintained equally on both campuses.
Our verdict on the matter is that ISB has excelled at enforcing its 'One School, Two Campuses' policy, and that there indeed is no considerable difference between ISB Hyderabad and Mohali.
March, 27th, 2019
Posted in

No Comments
Reading Time:
3
minutes
Okay let us face it – you were not expecting him! You were also expecting to take the GMAT or the GRE for a Masters program abroad.

Here is the news that might surprise you – Trump might be better for you than Obama who actually imposed more regulations such as jacking up the H-1B fees.

Here are 3 reasons why Trump getting elected might actually be good if you are planning to study in the US soon for your MS or MBA.



1) The US Dollar Rates might tank


If you see historically, the dollar rates have been on the rise since the last 10 years. It means what would have cost 40 lakhs about 10 years ago is now going to cost about 65 lakhs.




But with Trump getting elected, the dollar rates might just go down. What this means for you is that your tuition rates might go down by 10-20%. So maybe 2017 is the best time for you to apply to a grad school.

Why would the dollar rates tank? That is simply because the markets (and the world in general) don't know what to expect. It is one of those black swan events that hits you on a warm Wednesday afternoon.



2) He is not really against Indian Students


If you notice most of his election campaign rhetoric was against illegal immigrants. Building a wall was against Mexico and imposing trade restrictions was against China – nothing to do with India. The smart, educated (and benign) Indian students who go there, need not worry.

Here are a few comments he made to the Fox network:

"Whether we like that or not, they pay, et cetera, et cetera but we educate a lot of people, very smart people. We need those people in the country…….Many people want to stay in this country and then want to do that. I think somebody that goes through years of college in this country we shouldn't kick them out the day they graduate, which we do,"

Read more about Trump's comment:

So clamping down on those exploiting the H-1B visa, such as the IT companies in India, may actually help students who have put in their money and careers at stake to get a US education. To be honest, any change in the system is welcome because the current one is flawed.

Just read how students from top MBA programs have issues with the current quota system:

Here is how fast it takes for the H-1B visa ceiling to be hit!


3) Trump has been elected as the President – not a Dictator


Though Trump as the US Presidents does have certain powers vested in him through the post, he is certainly not a monarch.

Remember that the US system of government – divided among three branches: the executive, the legislative, and the judicial – is intended as a structural system of checks-and-balances. Though Trump's presidential power will be vastly strengthened because his fellow Republicans retained control of the two houses of the US Congress: the House of Representatives and the Senate – he just cannot pass one crazy law.

The US government works a lot through Congressmen who lobby for certain bills to be passed. Do you think the companies such as Amazon are going to let him pass any legislation that restricts their growth potential? No way!



Closing thoughts:


US is still the land of opportunities. Heck, if California were a country then it would have the 6th largest GDP in the world – ahead of France, India, Italy and Brazil.

Read more about America's growing economy.

Plus it has an awesome University system – you don't have many countries that can boast of a Harvard and an MIT in the same town – or a Silicon Valley with a Stanford and a Berkeley. This alone puts US as a go-to destination if you are looking at studying abroad.

Yes, H-1B visa issues will be contentious but Trump or no Trump can't take away the opportunity to experience the education and culture that only the US of A can promise.


Planning for an MBA in US this year?

Get your Profile Evaluated!
November, 30th, 2016
Posted in

No Comments
Reading Time:
8
minutes
A few weeks ago we had executives from John Hopkins – Carey Business School fly down from the United States to visit us at our Koramangala Center to do a small presentation of what Carey Business School has to offer to our MBA/MS applicants. Check out the presentation on slideshare below:
Carey Business School from CrackVerbal
CAREY BUSINESS SCHOOL
Johns Hopkins as a university is known for the medical school and the hospital, but is also famous for the school of engineering, the school of public health, and now the newest school, Carey Business School. Their curriculum consists of a global MBA, some one-year specialty Master's degrees, and dual degrees.
Hopkins, founded in 1876, was always a university, America's oldest research university. Carey Business School is a new school, founded in 2008 as a stand-alone business school. Although before that Johns Hopkins was still in the business education sector, there were just part-time programs that spanned across Washington DC and Baltimore Maryland.
Though a new school, they have a large number of business alumni. The concentration / specialization for the MBA or a one-year Master's degree include Enterprise Risk Management, Finance, Marketing, Healthcare Management, Real Estate and Infrastructure, Entrepreneurship, and Information Systems. They also offer dual degree programs that are offered through schools either at Hopkins, or other schools in the region.
The Global MBA
This is a traditional 2 year MBA that involves two major experiential learning projects through its timeline. During the first year, international students do something called a Summer Intensive, which is an orientation just for international students followed by an orientation for all students.

During year one, the focus is on all core business and management courses. This course has a class strength of about 40-60 students.

Innovation of Humanity and Discovery to Market are the two experiential learning projects that a student will be looking at. Innovation for Humanity focuses on developing economies and dwells around a social entrepreneurship/social enterprise type of project that has a positive impact on the local community.

Discovery to Market focuses on working with scientists or researchers who have a discovery that is yet to be evolved into a marketable product. The student will play the role of a consultant and come up with a business plan – from the research phase, patent research, all the way through the investment phase – and make a final recommendation.


Master of Science Degree (One Year) 
These are specialized and focused Master's degrees. There are thirty six credits. This program consists of a small number of business foundation courses, irrespective of the concentration that a student chooses.

But for the most part, the focus will be on the functional core such as Marketing, as well as electives, which are sub-areas of the subject that the student is studying. They are spread out between the Washington DC and Baltimore Maryland campuses, and Baltimore Maryland is just fifty miles or so north of Washington DC.
The Dual Degree Programs
You can opt for an MBA/JD, the Juris Doctor, for being an attorney with the Maryland School of Law. You can also opt for an MBA/MD with Hopkins School of medicine. There is also an MBA/MA course in Design Leadership on offer.
Faculty 
Carey Business School currently has 76 full-time faculty under the research and practice discipline. They are complimented by teachers from all the other schools from Hopkins. They have visiting scholars, guest lectures (academic and professional) corporate, senior professional instructors (folks that are actually out there working in the corporate world, for the government, or for an NGO).

They maintain an office in the school, and they bring their special perspective from whatever industry they are in to the students and to the school.
Career Development office
They begin working with the student from the time he/she accepts the admission offer. They will reach out to the students and assign to them a career coach, particularly, for the Global MBA, and start working with them, getting an idea of what is that next step you need to make in your career when you graduate.

During school, there will  always be workshops, and boot camps. The Career Development Office will provide you with opportunities to sharpen your interview skills and to sharpen your resume before heading out to the outside world.

The other half of Career Development is involved in corporate relations. They maintain/create new relationships with the various companies that have hired Carey Business School students as interns or employees.

Carey Business School hosts info sessions where job prospects from all over the world are presented. They have companies that come from all kinds of functions making their placement chances very versatile.


Application Process: Online Applications Only
No. of Essays: 1
Statement of Purpose: Not required but resume is mandatory
Competitive exam to take: GRE or GMAT for MBA/MS
Recommendation Letters: Minimum 1
TOEFL/IELTS: Mandatory
Transcripts from Bachelors degree: Mandatory
They also offer merit scholarships. Everyone who applies is eligible. There is no separate application. When you apply, they are also considering you for the scholarships that range from about $10,000 all the way up to full scholarships in exceptional cases. The same footing for international and domestic applicants applies. The letter of admission mentions the amount of scholarship an applicant receives.

Check out the presentation below!

FAQs:
1. What is the average GMAT score required to get an admit?

It depends on the program. For example, for the global MBA it is about a 650, for the master of finance it's a 700, and the rest range close to 650.
2. Does Carey Business School currently have Indian students pursuing Master's of Marketing?

Currently Carey Business School has 2 Indian students out of 120 students. For certain programs like Master's in Marketing, Real Estate, and Healthcare, they actively look to admit students from other regions to participate. Hence, scholarship options will be plenty.
3. What is the class size of an MBA program?

They have a class of 100 students at present and are looking to increase their class size actively from next year.
4. What is the mix of students? What different industries are they from?

Carey Business School has students from practically every background. There are students that come from a typical business background. They have students coming from engineering, IT, the medical field, politics, and the arts. They don't focus towards a particular background as a prerequisite for the MBA.

It can be any field, as long as the work experience for the MBA is present. No work experience is required for a Master's program. The only mandatory requirement is an undergraduate GPA performance and the GMAT/GRE.
5. How much work experience do you recommend for the MBA?

The preferred minimum is 2 years for a Carey Business School admit. The average is five. In rare cases students are given an admit with little to no experience, but that requires a pre-requisite of a high GMAT score along with a close to perfect GPA with a lot of professional experience such as work with an NGO, etc.,  that could replace professional work experience.
6. What are the  experiential projects like at Carey? Are they  in-house projects or real-time projects?

It's a real-time, outside-of-the-school project. In the case of Innovation for Humanity, the students start in the first semester and they're taught how to do this type of consulting. At the same time, they're put in a group with other students and assigned a client somewhere in a developing economy and they start working remotely with that client while they're being classed.

During semester breaks they actually go to that place and work one-on-one as consultants for that client. Besides working on projects, they have no connection to the school. So it's not a made up project. The second project is science based. Clients have a science based discovery, a patent, or an invention, that needs to be developed into a marketable product.
7. What are the specific details looked for in the application essays?

The topic asks for an instance where you built something. It's the time when you took the initiative and the leadership to create either a process or a new entity. This is an instance where you saw a need for something, you came up with an idea to fulfill that need, and you took it all the way through to the end.

What they're really looking for is examples of taking initiative and showing leadership, and being able to manage a complex project.Also, they look for good writing, proper grammar, and proper spelling. When you have negative things in your background, such as a low GPA, address it and explain why it happened in the optional essay.

They also let people do a video essay, so a lot of people have taken advantage of that to give a better idea of their background, what they are looking for, and what they are trying to get out of the MBA.
8. What are the TOEFL and IELTS cut-off scores?

TOEFL: 100, IELTS: 7
9. Is the TOEFL/IELTS mandatory? Can it be waived off?

It is mandatory. It cannot be waived off.
10. Can you give us some information about the 3-year and 4-year undergrad courses?

For the three-year degree, WES will evaluate an Indian three-year degree as being equivalent to a bachelor's degree. If you meet the two criteria—you're school is rated 'A' or better by NAAC, and you graduated in division one or with distinction above division one—their policy is to say your degree is equivalent to a four-year bachelor's degree.

If you don't, unfortunately you cannot be admitted without having perhaps having a post-graduate program or one of those one-year programs to give you that fourth year of post high school education.
11. Are there a lot of cases where students make a career shift to Healthcare Management?

Yes, there are students who have done that. At least 50% of the students are making major career changes, and Healthcare Management is one they've been pursuing.
12. What is the cost of living?

Most graduate schools in the US do not have housing for students. All students usually live quite close to either of the campuses, because there is a shuttle that goes back and forth. The school has a lot of online resources to help you find places to live.

We set up a Facebook page for the incoming class so that they can connect with each other to find roommates and connect with the previous class to get advice and recommendations.
13. What functional areas do students wind up working in post their MBA?
By a slight majority they wind up in consulting—IT, healthcare, and general management consulting. Second is Healthcare Management. Third is the category, 'other'. This is the big mix of all the different industries you can imagine. Fourth is IT.
14. How is the Indian undergrad GPA score evaluated when compared to US standards?

The credential evaluation system knows the nuances of all the schools in India, and they put the grade scale on a US perspective.
15. What do job recruiters prefer between an MS and an MBA?
It varies based on the type of job. Sometimes recruiters say they want an MBA student with a concentration in a certain area, but it can also be opened up to MS students that have a degree in that same area. At least in the US, the MBA has a longer shelf-life and more recognition, so to say.
It is a generalist degree—you're getting marketing, finance, operations, HR—you're getting so much at once, that when you move up the ladder, you tend to already have had some exposure to the basic elements.

Whereas, if you have an MS in finance, that's great when you're an analyst, but ten or fifteen years later when you're looking for something else you might need a different skills set. An MS degree is easier to get into, because they don't require work experience. But the job you get coming out is not the same as that of the MBA student.

Has that got you interested? Check out snapshots of other popular B-schools as well!

Read about other B-Schools!
January, 25th, 2016
Posted in

No Comments